---
WHAT IS JOB SEARCHING?

Job Searching is a course of action that you take in order to obtain satisfactory work. It is a full-time job. It takes time and patience. It is demanding, frustrating, and sometimes an emotional roller coaster. It requires responsible decision making, planning and believing in oneself.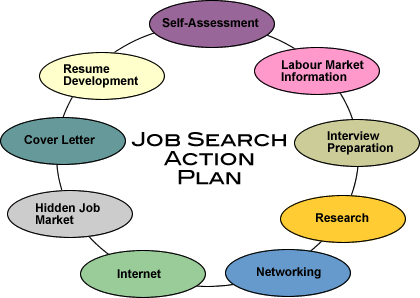 Getting prepared for Job Searching will alleviate much anguish and frustration. Finding answers to questions that may pop up during your Job Search will enable you to proceed with your Job Search in a systematic and methodical manner.



Q1. What type of work would I like to do?

Know yourself! What are your strengths, likes, dislikes, goals, interests, and values. Where do you see or vision yourself. Write down the pros and cons of the desired work. How do you see There are many self-assessment quizzes or programs that are free that will assist you with determining or qualifying what you like to do best and/or where your strengths and interests are. (Refer to: www.employmentservicesonline.com - Self-Assessment Quizzes). Most Employment Resource Centres offer the CHOICES program free. This is a program whereby having asked you a series of questions, will collect your answers and determine what occupations you might"fit". It will also enable you to view at the "click of the mouse", Labour Market information for those occupational titles. In addition, it will also print out a very nice portfolio for you, including a Resume and generic Cover Letter. A very user-friendly program!

Q2. What are the job duties, requirements and qualifications needed for the position?

There are many ways to determine what the duties or tasks of the job are, the requirements of the job and the needed qualifications for the job or position.
For each occupation, the Federal Government has printed a National Occupational Classification of Occupational Descriptions and Index of Titles. (This can be found through the Labour Market Informatin link indicated on our web site). Each Occupation is categorized and general details of the Main duties and Employment requirements are listed.
Newspaper ads. Generally, employment ads in the newspapers, no matter what type of occupation, will nicely display the performance criterion or job duties and qualifications needed for the position.
Internet. The Internet will post positions for various companies, organizations, and job-hunting sites and will detail the requirements and qualifications for the positions.
Informational Interviewing. Often times, arrangements have been made whereby possible employers have provided time to impart information to job seekers who wish to find out what certain jobs entail and what requirements are needed for those jobs.
This type of information can be advantageous. It allows the job seeker an opportunity to obtain knowledge about what skill sets are needed in order to do the job. Gathering this information and comparing it to the skills that the job seeker already has, should allow the job seeker to determine if he/she has the skills, experience, and education. From this point forwared, the job seeker needs to decide what the next step will be. Perhaps more education or experience is required, or possibly that the position is not the right match for the job seeker, which then can lead to another plan and path.

Q3. Where do I find the information for these questions?

Information for questions is found in many ways. The Resources are numerous. Books, videos, Employment Resource Centres, Libraries, Internet, Job Developers, Mentors, can advise you on: where the jobs are, how to find a job, Effective ways to develop and compose a Resume and Cover Letter, the Internet, the latest Labour Market trends, and How to Network but the first step is to begin!

Q4. What do I need to do in order to get the work I want?

You need to assess your skills, education, experience, values, and what type of work appeals to you. (Refer to Self Assessment Quizzes)
Q5. What is my Career Plan and Career Path?

There is a difference between a Career Plan and a Career Path.
A Career Plan (a plan on how to get where you want to be) projects a future goal that you wish to achieve, experience and qualifications that will be acquired, work habits that will be developed, economic conditions or situations that will enable you to do what you want to do when you want to do it, mobility to move within the company, or to move to another location, family situations, timelines, age, and advancement. These variables will impact on you and it will be your choice to focus on how to plan your career journey.
A Career Path (a path that acknowledges your well being in the plan that you have set forth) encompasses: attitudes, interests, temperament, personal attributes, feasibility of attainment, and constraints (i.e. Health), values, preferences and lifestyle.
Career Planning and Pathing together assist in career direction and scope. Plans may change at any given time, thereby altering the path. Consider second or third career options! Keep an open mind.

Q6 Should I do some self-assessment programs to firm up my plans?

Self-Assessment quizzes or tests are totally up to the job seeker. There are lots of freebies.

Q7 Who is hiring?

Be aware of who is hiring. It will be critical in your job search. Certain occupations are in higher demand than others. Check the Job Futures site.